*UPDATED* Now's the Time to Register for 4-H Summer Camps!
Looking for a fun and educational experience for your children this summer? If so, look no further – 4-H summer camps have something for everyone! Chatham County 4-H will be participating in 5 different camp opportunities this summer: 4-H Adventure Day Camp at Northwest District Park in Silk Hope, Betsy-Jeff Penn 4-H Center in Reidsville, 4-H Discovery Day Camp taking place across the state, Cloverbud Overnight Camp at Millstone, and Citizenship Day Camp taking place around the Triangle area.
Chatham County 4-H Adventure Day Camp: Camp will be conducted by Chatham County 4-H at Northwest District Park in Silk Hope for two weeks this summer: June 10-14 and June 17-21. The camp is open to boys and girls ages 6-12. The camp fee is $75 per person, per week. Insurance, camp t-shirt, crafts/supplies, and lunch on Friday are included in the registration fee. Limited scholarship money is available if financial need is expressed and verified. Camper support is provided by United Way of Chatham County and by Triangle Community Foundation's Send a Kid to CampTM programs. Activities will include fishing, forestry, science exploration, wildlife, agricultural awareness, environmental education, nutrition, recreational activities and swimming. Campers are grouped by age and rotate to all activities. 4-H membership is not required. Camp enrollment is limited each week to 55 campers.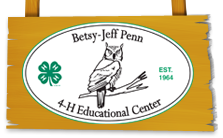 4-H Residential Camp at Betsy-Jeff Penn: Chatham County 4-H will be taking a group of youth, ages 8-14, to Betsy-Jeff Penn 4-H Center on July 21 – 26. The cost for this fun-filled adventure of 4-H camping is $350 per person, which includes a $100 non-refundable deposit due upon registering to reserve your child's spot on the bus. Space is limited for these camps.
4-H Science Discovery Day Camp with Chatham County 4-H: This science-based day camp will take place July 8th-11th and will feature various fields of science from across the state. Camp is open to youth ages 11-13 with a registration fee of $50. Space is limited to 10 youth – sign up soon to reserve your spot!
Cloverbud Overnight Camp at Millstone:  This 24-hour camp is for young people ages 5-9. It begins at 2:00pm on August 2nd and ends at 2:00pm on August 3rd.  Campers for this event MUST be transported to and from camp by their parents due to age restrictions.  Cost of camp is $40 which covers snacks, dinner on Friday, breakfast and lunch on Saturday, crafts, and insurance.  Cabin/bunkmate requests can be honored if requests are  put on the completed registration form.  Scholarship money is available with proper documentation providing evidence of need.
Citizenship Day Camp:  Three-day event starting on August 5th and ending August 7th.  The format of the camp is modeled similar to the Science Discovery Camp, except this camp focus is on civic engagement and citizenship.  Campers will meet at the office each day and depart for their locations around 8:00am and will return around 5:00pm.  Camp is open to youth ages 13-18; cost is $45 and includes lunches, snacks, and insurance.  Registration is limited to 5 youth.  Visits will be made to Moore County to learn about town/county government, to Raleigh to visit the Governor's Mansion, and to Moore for exploration of national government.
Registration forms are available under the "Camp" header on the 4-H website: http://chatham.ces.ncsu.edu/categories/4-h-youth-development/.
For more information, please contact the 4-H office at 919-542-8202 or by email at extension.programs@chathamnc.org. Come join the fun!
Chatham County 4-H is a participating United Way Agency.
North Carolina State University and North Carolina A&T State University commit themselves to positive action to secure equal opportunity regardless of race, color, religion, creed, national origin, sex, age, disability, or veteran's status. In addition, the two Universities welcome all persons without regard to sexual orientation. North Carolina State University, North Carolina A&T State University, U.S. Department of Agriculture, and local governments cooperating.
Persons with disabilities and persons with limited English proficiency may request accommodations to participate by contacting Sam Groce, County Extension Director at 919.542.8202 or sam_groce@ncsu.edu<mailto:sam_groce@ncsu.edu> or in person at the County Extension Office at least 30 days prior to the event.
Was the information on this page helpful?
This page can also be accessed from:
go.ncsu.edu/readext?205074