You Could Be an Extension Master Master Gardener Volunteer!
Find this article at:
go.ncsu.edu/readext?396677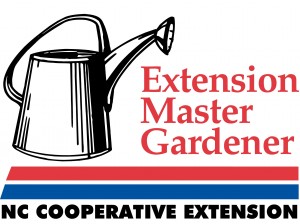 Extension Master Gardener Volunteers help make their communities a greener place to live by guiding homeowners in making environmentally sound decisions in their gardens, lawns and landscapes. Currently, over 4000 Extension Master Gardeners are actively volunteering with their local Extension program in 85 of NC's 100 counties. Chatham Extension horticulture agent Charlotte Glen reports this number will increase this spring as Cooperative Extension establishes an Extension Master Gardener Volunteer Program in Chatham County.
Glen explains, "Extension Master Gardeners receive intensive training from their local Cooperative Extension center. In return, they volunteer to help the organization meet a tremendous demand for advice and educational outreach related to sustainable gardening." According to Glen, having Extension Master Gardener Volunteers in Chatham County will greatly expand the local Extension program's ability to provide gardening information and education for both adults and youth, as well as provide educational support to community efforts such as school and community gardens.
No previous formal training is necessary to become an Extension Master Gardener Volunteer, just a passion for both gardening and volunteer service. If you would like to find out more about the Extension Master Gardener Volunteer Program in Chatham County, attend one of the free upcoming information sessions that will be held in the auditorium of the Chatham Agriculture Building, 65 E. Chatham St., in Pittsboro. Three, one hour sessions are scheduled to allow individuals to chose a time that best fits their schedule. Session will be held:
Tuesday, Feb. 23 at 10 a.m.
Wed. Feb. 24 at 2 p.m.
Thurs. Feb. 25 at 6:30 p.m.
Pre-registration is requested. To pre-register, call 919-542-8202 or pre-register online.
Learn more about these sessions
Learn more about the Extension Master Gardener Volunteer Program in Chatham County
Learn more about upcoming classes for gardeners