Extension Gardener Spring Issue Now Available!
Posted On

March 2, 2017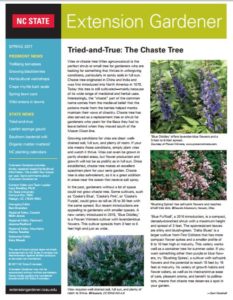 Welcome Spring with Gardening News You Can Trust!
The spring issue of Extension Gardener is now available online! Download your copy of the latest issue to learn about:
Vitex, aka Chaste Tree
Trellising Tomatoes
Growing Blackberries
Crape Myrtle Bark Scale
Spring Lawn Care
Growing Loofah Sponge Gourds
Organic Matter Matters!
And more!
Extension Gardener is written by horticultural experts with the North Carolina Cooperative Extension Service. Each issue features timely, research based information, including statewide features plus a special regional section written specifically for your area of the state.
Friend Extension Gardener on Facebook at NC Extension Gardener, and keep up with the latest gardening news on the Extension Gardener portal.
Use Extension Search to find research based information from Cooperative Extension systems across the U.S. or post your questions to be answered online via Extension's 'Ask an Expert' widget.