Can't Find Our New Office?
Find this article at:
go.ncsu.edu/readext?458181
Chatham County Cooperative Extension moved to its new location in January along with the other offices that were located in the old Ag building plus, NC Forest Services.
If you have not visited our  new location you may have a hard time finding us. Actually, we are  very easy to find, only 1.2 miles from the Historic Courthouse in Pittsboro. At the traffic circle exit onto US 64 West Business. You will pass Central Carolina Community College then The Harold Boone Boy Scout Building. The next building will be us! You will see a sign at the road, Chatham County Agriculture and Conference Center. As you turn into the drive you will drive up to a stop sign.
While you are stopped you will notice a Chatham County sign directly in front of you. This signage is directing you to our offices. Naturally everyone wants to go straight but, don't, that area is a drop off area for handicapped and older adults that may be visiting the conference center. To get to our office make a left at the stop sign. Park on the west side of the building, our main entrance will be found on the west side.
Once you enter into our lobby you will see a reception desk with a red button. Press the red button and someone will assist you shortly. If you are visiting our offices always use the West Wing door, NOT the front doors at the conference center. We realize this is confusing to many people because naturally people go to the front doors. If you should go to the front door you will not be able to get to our office.
Our address is 1192 Hwy 64 West Business, Suite 400, Pittsboro, NC 27312.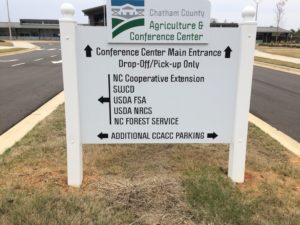 At the entrance of our new location you will see this sign while you are stopped at the stop sign. To enter our office you will need to make a left. You will be forced to make a right into the parking lot on the west side of the building.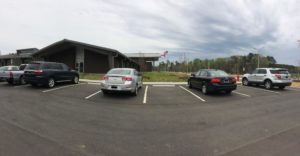 Park on the west side of the building. This is the parking lot located near our main entrance.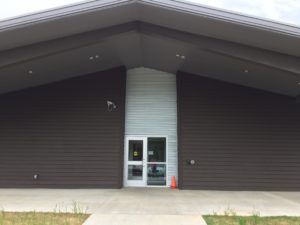 This is our main entrance. Enter through these doors to reach someone in our office. At the receptionist area you will notice a monitor and a large red button. Press the red button and someone will assist you shortly.
Hope to see you in our office soon!