4-H Day Camp Counselor & Jr. Counselor Job Application Packets Now Available
Posted On

March 26, 2019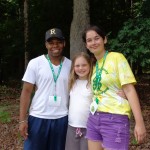 Application packets are now available for paid and volunteer staff for this summer's 4-H Adventures Day Camp at Northwest District Park. Camp will be held for two weeks beginning Monday, June 10 and ending Friday, June 21, 2019.
For additional details, please feel free to contact Ginger Cunningham or Liz Mauney at the N.C. Cooperative Extension, Chatham County Center (919-542-8202).
All application packets are due into the 4-H office by Fri., May 10.
Chatham County 4-H is a proud participating United Way agency.
NC State University and N.C. A&T State University commit themselves to positive action to secure equal opportunity and prohibit discrimination and harassment regardless of age, color, disability, family and marital status, genetic information, national origin, political beliefs, race, religion, sexual identity (including pregnancy), and veteran status. NC State, N.C. A&T, U.S. Department of Agriculture, and local governments cooperating. Persons with disabilities and persons with limited English proficiency may request accommodations to participate by contacting Ginger Cunningham, County Extension Director, at 919.542.8202, ginger_cunningham@ncsu.edu, or in person at the office at least 30 days prior to the event.