Recapture the Magic of the Season During Christmas at Biltmore While Supporting Chatham County 4-H!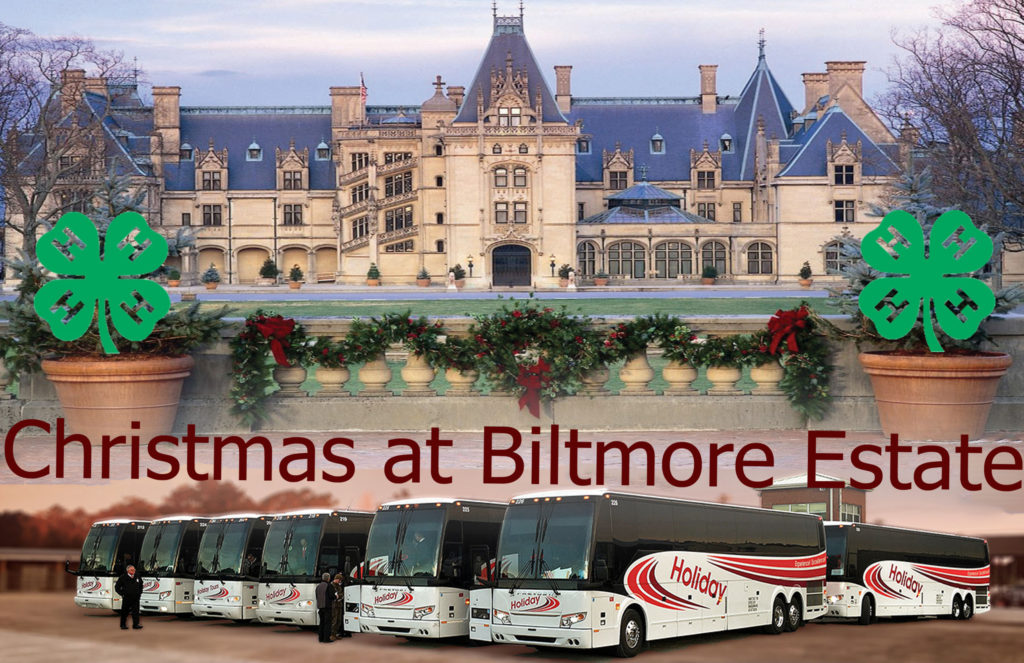 Recapture the magic of the season during Christmas at Biltmore, including lunch at the famous Deerpark Restaurant! Come join us for this spectacular trip during Biltmore's most beautiful time of year. The halls and rooms of America's largest home are elegantly accented with dozens of Christmas trees, more than 400 wreaths and bows, 700 poinsettias, miles of evergreen garland, thousands of ornaments, tinsel, and beading, and a 35-foot Frasier fir that is one of the most beautiful Christmas trees you will ever see. Holiday music from ensembles and the banquet hall organ complete the experience, filling the halls with Biltmore's larger-than-life Yuletide celebration. We'll also visit the Antler Hill Village, encompassing the winery and farm, where participants can enjoy a winery tour and step into the everyday life of families who lived on the estate and worked in the Biltmore Dairy in the early 1900s.
Proposed Trip Itinerary:
7:00 a.m.   – Depart Pittsboro
                – Stop for breakfast en route
11:45 a.m. – Arrive at Biltmore Estate
12:15 p.m. – Lunch at Deerpark Restaurant
1:45 p.m.   – Tour Biltmore House
4:30 p.m.   – Visit Antler Hill Village
5:45 p.m.   – Approximate departure time to return home
                – Stop for dinner en route
10:30 p.m. – Approximate arrival back in Pittsboro
Proceeds from this fundraiser will be used to support 4-H school enrichment opportunities, camps, and community club programs. Please support our Chatham County 4-H members by purchasing your ticket today!
Chatham County 4-H, with the assistance of Holiday Tours, has planned this exciting day-long trip!
FUNDRAISER DATE:  Friday, Dec. 13th
PRICE IS PER PERSON:  $180
Reserve your seat on the bus today because seats are limited!
Includes deluxe motorcoach transportation, a ticket to Biltmore Estate, and lunch at Deerpark Restaurant. For more information about this exciting trip please see the registration form.