Fall Vegetable Gardening in Containers
Many vegetables are well-adapted to planting in late summer for a fall harvest. Containers enable those lacking sufficient space or appropriate site conditions to grow fresh, nutritious vegetables. Containers also allow ready access for more frequent harvests and easier pest management.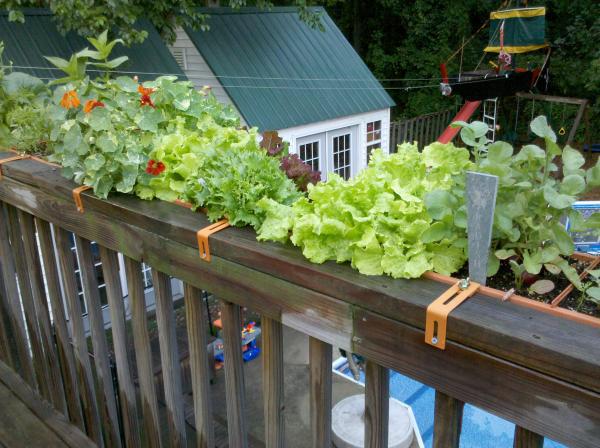 Join new Chatham County Horticulture Extension Agent Matt Jones and the Extension Master Gardener℠ volunteers of Chatham County for a free fall container vegetable gardening class on Saturday, August 11.
Learn the principles of container gardening in any season, including choosing appropriate containers, growing media, light and water requirements, and nutrient management. We'll also discuss the cultural practices, pest management and cultivar selection for common fall vegetable crops, including beets, bok choy, carrots, green onions, kale, radishes, and lettuce and other leaf greens.
Participants will also discover the vast, research-based resources available to gardeners from NC State Extension, and get a sneak peak of upcoming Extension Gardener and Extension Master Gardener volunteer workshops and classes coming in 2019!
When
Saturday, August 11, 10:00 a.m. – 12:00 p.m.
Where
Chatham County Agriculture and Conference Center
1192 US-64 W Bus. – Pittsboro
Registration
There is no fee for the class, but pre-registration is required.
Questions?
Subscribe to the Chatham Gardener email list to receive announcements of upcoming Extension events and timely updates on sustainable lawn, garden, and landscape care for the central NC Piedmont. To subscribe:
Visit our newsletters page
Scroll down to enter your email address in the "address" box
Click on the subscribe button
NC State University and N.C. A&T State University commit themselves to positive action to secure equal opportunity and prohibit discrimination and harassment regardless of age, color, disability, family and marital status, genetic information, national origin, political beliefs, race, religion, sexual identity (including pregnancy), and veteran status. NC State, N.C. A&T, U.S. Department of Agriculture, and local governments cooperating. Persons with disabilities and persons with limited English proficiency may request accommodations to participate by contacting Ginger Cunningham, County Extension Director, at 919.542.8202, ginger_cunningham@ncsu.edu, or in person at the County Extension Office at least 21 days prior to the event.