Carolina Backyard Naturalist (9/9/20)
Find this page at:
go.ncsu.edu/readext?717695
From North Africa, to North America, to North Carolina: The Journey of Our Soils, Their Character, and Their Relevance to Life! 
We walk, build homes, grow food, and do all of our living on soils, and yet most of us know very little about where our soils originated and what composes them! North Carolina soils have a somewhat violent past and are among the oldest in the world, with a wide range of minerals and parent rock. How do we protect these ancient clays and sands so that they may, in turn, support a rich ecology?
Participants will learn the geologic processes that built our North Carolina landscape and the resulting soils that vary across our state.
An understanding will be gained of basic soil characteristics, how they can be determined in a home landscape, and what other important resources are available to enrich our knowledge of the soils in our gardens, cities, farms, and forests.
We will address strategies for protecting our soils and the rich diversity of soil life and why that is important for the overall health of our ecosystem.
Presenter: Dr. Jeana Myers
Horticulture Extension Agent, N.C. Cooperative Extension – Wake County Center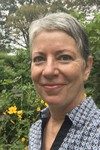 Jeana Myers has been the Horticulture Agent in Wake County since 2012 where she oversees a 170 member Extension Master Gardener℠ program and works with landscapers and farmers. She served in the Peace Corps in the Democratic Republic of the Congo then returned to North Carolina to get her graduate degrees in Crop and Soil Science. She and her husband intensively garden their 1/3 A near downtown Raleigh with fruits and vegetables, honey bees, water catchment, solar panels, ponds, and all kinds of backyard nature.
Presentation Slides
Part 1: Origins, Elements, and Minerals
Part 2: The Rock Cycle, Geology, and Soil Maps
Part 3: The Nature and Property of Soils
Additional Resources
Plate Tectonics (History of Science)
Soil Geologic Map of North Carolina 
NC Department of Environmental Quality Geological Survey 
Web Soil Survey Maps by County
NC Extension Gardener Handbook Chapter 1: Soils and Plant Nutrients 
N.C. Department of Agriculture and Consumer Services Agronomic Division