Looking for a unique present to give this holiday season?  Try giving the gift of BJP 4-H Summer Camp!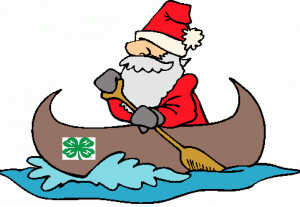 This time of year, families are often looking to give a special gift to a very special child in their lives. While many people may not be thinking about summer camps this time of year when the weather is downright chilly and holiday decorations light up homes all over, but the gift of a week of 4-H camp would mean the world to that special youth in your life come next summer!
Chatham County 4-H has committed to a week of residential (overnight) camping at the Betsy-Jeff Penn 4-H Educational Center from July 26th -31st, 2015. Located near Reidsville, NC, BJP Educational Center is 220 acres of beautiful recreational property for youth ages 8-14 to explore under the guidance of nurturing, caring, and capable camp staff. Youth have the opportunity to take part in archery, horseback riding, evening camp fires, swimming, canoeing, and so much more! Each year, youth from all across the county join in this unique 4-H camping experience as the highlight to their summer vacation.
Once again this year, Chatham County 4-H is pleased to announce our ability to offer this experience at a discounted rate for camping with our county delegation; we are only able to do this due to the generous support of our local United Way of Chatham County. For 2015, registration fees for one week of camp are $350 per youth and include all expenses related to transportation, camp rental, meals, crafts, insurance, camp t-shirt, and $15 in camp store funds. Initial registration requires that a $100 deposit be made to secure a camping spot for each eligible youth (this deposit will count towards the total $350 fee).
If you are interested in securing a spot for BJP 4-H Camp next summer, please contact Ginger Cunningham in the Chatham County Extension Office at ginger.cunningham@chathamnc.org. Early registration begins Monday, Dec. 15th, 2014. We can provide you with a holiday gift certificate and 4-H memento to present to your child as an extra special surprise this Christmas if you secure a spot in-person by Friday, December 19th, 2014. Happy Holidays!
BJP Camp Registration Flyer – 2015